April 2018
Volume XVI Issue IV

Share this newsletter on
Nevertheless, They Persist
It has not been an easy year for many teachers or administrators across the country. 
Schools are being asked to do more with less, and despite the pressures and expectations put upon them, they continue to move forward and are making tremendous strides.  As I reflected on the many accomplishments and the upcoming closing of the 2017-2018 school year, two recent articles and a 200-year old poem that communicate upbeat ways of thinking caught my eye.
In the March 2018 Educational Leadership, Alexis Wiggins, founder and director of the Cohort of Educators for Essential Learning (CEEL), provides the following uplifting thoughts:
"Life can be serious, and work can be serious.  There is less room for anxiety and stress in your day when you make room for lightheartedness and laughter. … Whether it's a massage, facial, yoga, meditation, or reading before bed, make sure you take care of yourself with some indulgent rituals as a reward for the hard work you do everyday. Pick one thing that makes you feel indulgent and do it, without guilt… Life is too short to spend it angry or resentful. We are all trying to do the best we can, and if we can let go of the things we can't control and focus on what we can, our happiness and our health will be better for it."
James Clear, who writes about the effect of positive thoughts on the brain, provides these insights:
"Finding ways to build happiness and positive emotions in your life – whether it is through meditation, writing, playing a pickup basketball game, or anything else, provides more than just a momentary decrease in stress and a few smiles… Periods of positive emotion and unhindered exploration are when you see the possibilities for how your past experiences fit into your future life, when you begin to develop skills that blossom into useful talents later on, and when you spark the urge for future exploration and adventure… To put it simply: Seek joy, play often, and pursue adventure.  Your brain will do the rest."
John Greenleaf Whittier (1807-1892) wrote an inspirational poem titled "Don't Quit" that seems apropos for today's educational climate. It shows us that some words are timeless. It is included below. Access a printable copy of the poem HERE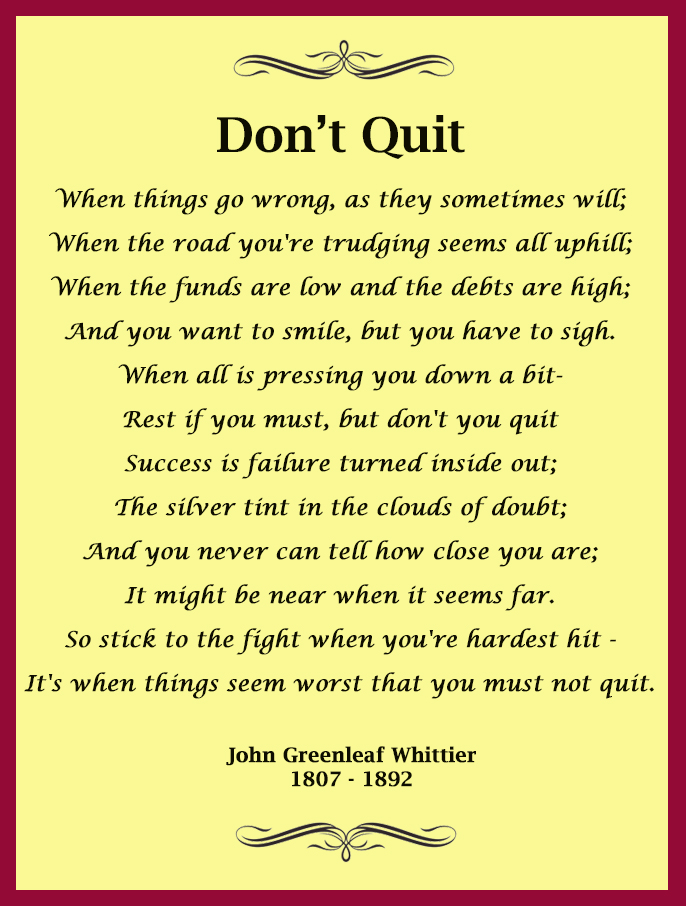 The Just ASK 2018 Closing of School Checklist provides actions that you can take to successfully finish the 2017-2018 school year while considering all that has been accomplished as well as planning for the upcoming school year. 
Permission is granted for reprinting and distribution of this newsletter for non-commercial use only. Please include the following citation on all copies:
Oliver, Bruce. "The Just ASK 2018 Closing of School Checklist" Just for the ASKing! March  2018. Reproduced with permission of Just ASK Publications & Professional Development. © 2018. All rights reserved. Available at www.justaskpublications.com.