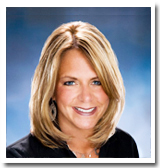 Heather Clayton, the author of Making the Standards Come Alive!, is the principal of Mendon Center Elementary School in Pittsford Central School District, New York. She is also a co-author of Creating a Culture for Learning published by Just ASK.
Building a Literacy Community
with a School-wide Book of the Month
Literature plays a key role in helping children's voices take the floor. Literature triggers thoughts, unlocks memories, and helps create the kind of community in which it's safe to tell our stories.
– Shelley Harwayne
There is a common misconception that by having common standards, teachers and schools lose the ability to be creative in their approach to teaching those standards. In fact, this is quite the contrary. With the implementation of well-written, vertically aligned standards, schools have the unique opportunity to find innovative ways to bring learning to life for students. One such way is through purposeful school-wide initiatives centered on quality learning experiences for all students. One such initiative is a school-wide Book of the Month program.
The idea behind a school-wide Book of the Month, or as it's called in some schools, a Principal's Book of the Month, is that each month every student in a school has the opportunity to read a common text, and engage in learning, thinking, and responding to that shared text. When all students and adults in a school share a common experience around literature, it helps to not only unify and create a literacy learning community, but to provide a shared experience for all students while emphasizing the behaviors and habits of mind schools want students to emulate.
Choosing Texts
The success of a school-wide Book of the Month program relies on the careful selection of texts. In order to do so, schools need to gather a group of diverse staff members who are committed to reading multiple titles and reflecting on the potential of each title for students. Some suggested members depending on the staff makeup of your school include a building administrator, library media specialist, counselor, literacy coach and/or reading specialist, teacher representatives from varying grade levels, and a parent. Each member brings a different perspective, different knowledge of titles, and unique thoughts on ways that the students can demonstrate their learning.
It is important to provide clarity around the criteria for books you will use in your program prior to committee members bringing potential titles back to the group. Picture books have been proven as highly effective for school-wide titles, as they are short enough to read a different title each month but they cover a range of topics and are written at many different levels. There are picture books that are very appropriate for secondary students and have been useful for addressing multi-faceted concepts such as events in history, global issues, science concepts, current events or the lives of impactful people. The following are some criteria to consider in the selection of texts:
The text has relevance for the students who will be reading it.
Ideally, the texts chosen should have content that is accessible to each level of learner and have meaning for each student. A text can't be too "babyish" for older learners, but at the same time it can't be too lengthy or contain content that is too far out of reach. The best texts we have found are those that do not contain too many words on a page, but that have strong messages and open varying levels of discussion. The texts that are the most impactful are those in which students can make connections and see the importance of the message in their daily lives.
The text is one that could invite rich discussions at each grade level.
It is a real challenge to find a text to suit multiple grade levels, but is one that can be accomplished if you remember that while the text is common, the discussions and response will have varying levels of sophistication depending on the grade level. The best choices are those that leave opportunities for questioning, interpretations, and lots of thinking about a meaningful topic.
The texts used across the school year have wide and varied messages.
To keep all students hooked on the book each month, it is most effective if the messages are varied and there are different "take-aways" from each text. This keeps the learning fresh, the connections numerous, and ultimately widens the scope of impact across the school.
The illustrations support the text and are done in a variety of mediums.
When choosing texts our school has spent as much time studying the impact of the illustrations as we have the writing. We are intentional about choosing books that utilize a variety of mediums, and we try to make connections to the art students are doing in school. We vary the medium each month so students are exposed to the variety of ways illustrations engage the reader and carry the message of the text.
The texts should be those that are likely to be new to the students.
A huge benefit of this program is the ability to introduce students to new authors, illustrators, content, and genre. To keep the learning novel, try to avoid using popular titles that are frequently used for other purposes or titles that students already select for their personal reading.
Funding for Books
Providing each homeroom with a book each month is an expense that schools need to budget. Potential funding sources for the purchase of the books include:
Title I funding
Grants
Parent Teacher Association (PTA) or Parent Teacher Organization (PTO)
Donations from the community
Fundraisers
Book Club points
Building budgets
Box Tops/Can labels
Smaller schools may choose to inter-library loan copies of common texts if purchasing books is not a viable option.
How Our Book of the Month Program Works
Each month each homeroom is given a copy of the book to be used that month. Accompanying the book is a letter written to the students, along with a guide for teachers that includes open-ended questions to facilitate discussion, web links to extend the meaning of the text, and ideas for engaging students in meaningful learning after sharing the experience of the text.
In our school it is called the Principal's Book of the Month, therefore I author the letter to students to share my love of the text they are about to read, along with setting a purpose for listening. Our committee rotates the job of authoring the guide, which has worked well for us. Some months we've added an accompanying poem, or a school-wide response or art project to further bring our school literacy community together.
An important and powerful part of this program is the support of the parents. I have found it very helpful to bring each month's title to PTSA meetings so parents can see them first-hand. We also keep copies available and on display in our library. In communications from school such as school newsletters or teacher communications, we share the titles and rationale for their use. Titles can also be shared on the school website or the Principal's Page. We have also found power in dedicated places to display the book and work students are doing in connection to that book. We are proud to say that our literacy community extends far beyond the walls of our school.
The Principal's Book of the Month program is a practice begun by the previous principal and I have now led it for five years. We find that every year the program has a different theme or purpose and this has kept it fresh. For instance, in some years we have focused on the character traits in Our School Promise and other years focused on 21st century skills such as creativity and innovation. We have read biographies about impactful people, learned lessons from well-developed characters, laughed and cried at story plots, and seen first-hand the power of art and writing. At Mendon Center Elementary, we have found that the possibilities are endless.
Examples of Unique Ways Students Engaged Around Selected Texts  
Mr. Cornell's Dream Boxes by Jeanette Winter
Joseph Cornell was an American artist and collector who enjoyed creating shadow boxes out of found objects. After reading Mr. Cornell's Dream Boxes, each class created a shadow box of its own. Students were charged with coming up with a theme, collecting artifacts, assembling their shadow box, and giving it a title. When planning and assembling their shadow boxes, students exercised creativity, collaboration, and critical thinking. Our PTSA funded each of the shadow boxes and we proudly displayed them in our library for Open House.
https://www.josephcornellbox.com/
Letter to Students for
Mr. Cornell's Dream Boxes
Dear Boys and Girls,
This month's book, Mr. Cornell's Dream Boxes, challenges you to find beauty in the ordinary and to be inspired by your memories and dreams. Joseph Cornell used shadow boxes, small boxes made out of wood and glass, to build imaginary worlds inside. He wasn't an artist by trade, but instead a collector with big dreams.
As you read this book with your teacher, I challenge you to think about this question: "Who is Joseph Cornell?" Use clues from the writing and illustrations to help you think about the traits that Joseph Cornell possesses. You will need to infer, because the author and illustrator, Jeanette Winter, expertly uses only as many words as are needed to spark our interest. Her word choices are deliberate and she uses every illustration to help carry the story of Mr. Cornell's life.
Mr. Cornell's Dream Boxes has been called "an open invitation to children and adults everywhere to dream and create art." I hope you see it this way too!
Love,
Ms. Clayton 🙂
Incredible Inventions
Grade 4
Welcome to America
Grade 4
Imagination is Endless
Grade 5
Flight
Grade 5
---
Infinity and Me, by Kate Hosford
This book tells the story of a young girl who wonders about infinity. Her questions reveal how she thinks about this big idea and gets students thinking as well.
Letter to Students for
Infinity and Me
Dear Boys and Girls,
Our December Book of the Month is entitled Infinity and Me, by Kate Hosford. The theme for this month is "Thinking Creatively" and this story will definitely get your mind working in unusual ways. In the story, Uma, a young girl, stares up at the night sky and begins to wonder about infinity. She then seeks the answer to the question, "What is infinity?" Infinity means different things to different people, as you will see when you hear the responses of the people she asks.
The word infinity is derived from Latin and is used to explain something without limits. The prefix in- means "not," and finite is derived from finis which means "limit or end." The word finite is also related to the words define, final, and finish. Can you figure out how? A great tool for learning new vocabulary is an organizer called a Frayer Model. Included with my letter is a blank one for your teacher, so that you may explore the word even more. The English language is fascinating and we have much to learn from the study of words.
I hope you enjoy this book as much as I did, and that you think deeply about the idea of infinity. What example would you give to describe infinity? To me, infinity is the colors of the ocean, the shapes of the clouds, and the number of ways we work together. Go ahead and give it a try! On the half sheet of paper I've included, tell me what you think infinity is using words or pictures. There will be a box in the office for your thinking, and I can't wait to see what you've written…there are an infinite number of possibilities!
Love,
Ms. Clayton 🙂
Student Responses to "Infinity is…"
---
The Mangrove Tree: Planting Trees to Feed Families by Susan L. Roth and Cindy Trumbore
This is the story of how Dr. Sato's tree planting project transformed a village.
Letter to Students for
The Mangrove Tree
Dear Boys and Girls,
Our April/May Book of the Month is entitled The Mangrove Tree: Planting Trees to Feed Families, by Susan L. Roth and Cindy Trumbore. This is a story of the people from the tiny African country of Eritrea in the village of Hargigo, and how they were living without enough food for themselves and their animals. It seemed hopeless until the efforts of one American scientist, Dr. Gordon Sato. As you read and reflect on this true story, I encourage you to think about the essential question "Can one person make a difference?" Be prepared to discuss your thoughts on this after the story using the details you heard.
There is much to appreciate about both the writing and the illustrations in this book. On the left side of each page, you will find verses, or groups of lines of poetry, that repeat. On the right side of each page you will find prose. Using both kinds of writing along with detailed collage pictures, you can discover for yourself how Dr. Sato's project changed a struggling village into a self-sufficient community. As you read, think about what traits Dr. Sato possesses. What did it take for him to make the difference he made for the people of Hargigo?
Finally, along with this book, each of you will receive a blank puzzle piece. On the back of this letter your teacher will find the directions for how on this puzzle piece you can share your thinking and artistic talents to bring our school to life. I hope this book serves as an inspiration for you, just like it did for me! Enjoy!
Love,
Ms. Clayton 🙂
Sample Guide for
The Mangrove Tree
Principal's Book of the Month
Month:    March
Theme:    Caring/Kindness – Acts of Kindness
Book:        The Mangrove Tree: Planting Trees to Feed Families
Author:    Susan L. Roth & Cindy Trumbore
Synopsis: This book is an example of narrative nonfiction beautifully illustrated with collages created with paper and fabric. It describes how a Japanese-American biologist, Dr. Gordon Sato, transformed an impoverished village in Africa into a self-sufficient community by planting mangrove trees. Simple, cumulative verse is complemented with more detailed information. Readers may appreciate reading the book twice, focusing on the illustrations and the simple verse first and reading the descriptive text on the right side of each spread. A Glossary and Pronounciation Guide are included in the book.
Before reading:
Look closely at the front cover. Compare the grey-haired man with the other characters. What do you notice? How do they feel about each other?
Read this title. How can trees feed families?
Where do you think this story takes place? Gather more information by studying the landscape depicted on the endpapers. Locate the African country of Eritrea on a map. What do we expect the climate to be like?
If you would like more information about this country, you can access two online encylopedias, World Book and Groiler, by going to the MCE Library webpage and selecting "Research Tools." You can also find many images taken in Eritrea as well as photos of mangrove trees using Britannica imageQuest.
Display a photograph of a mangrove tree. What do you notice about its roots, branches, and leaves?
During reading:
Read the first two pages. Discuss the problems people experienced in the village of Hargigo in Eritrea. Why were they hungry?
What do trees need to grow? What makes the mangrove an ideal tree for planting in this environment?
What types of work do the people of Hargigo do? How did planting mangrove trees help each group of people – women, shepherds, fishermen, and children?
How do people and animals use every part of the mangrove tree – leaves, branches, and roots?
After reading:
Why do you think Dr. Sato helped the people in the village of Hargigo? Follow this discussion by reading the Afterword.
Learn more about the mangrove trees by reading The Sea, The Storm, and the Mangrove Tangle by Lynne Cherry. This book is available in MCE's library.
How do you think the people of Hargigo feel about Dr. Sato? Find evidence in the text to support your answer.
How has someone helped you overcome a problem? How do you feel about him or her?
Read this poem together. What connections do you see between the book and the poem?
Poem to Accompany
The Mangrove Tree
Think Like a Tree
Soak up the sun
Affirm life's magic
Be graceful in the wind
Stand tall after a storm
Feel refreshed after it rains
Grow strong without notice
Be prepared for each season
Provide shelter to strangers
Hang tough through a cold spell
Emerge renewed at the first signs of spring
Stay deeply rooted while reaching for the sky
Be still long enough to
hear your own leaves rustling
Karen L. Shragg
featured on p. 50 of The Tree That Time Built
selected by Mary Ann Haberman and Linda Winston
Student Responses to
"How can you make a difference in the lives of others?"
---
Each Kindness by Jacqueline Woodson
In the story, Chloe learns that it's the small acts of kindness that have the potential to change the world.
Letter to Students for
Each Kindness

Dear Boys and Girls,
Our January Book of the Month is Each Kindness, by Jacqueline Woodson. The theme for this month is caring and kindness and this book will undoubtedly teach you how the choices you make have a profound impact on others. In the story, Chloe turns away from the new girl, Maya, despite Maya's best efforts to become her friend. Maya ends up alone, and one day she is gone from school altogether. Chloe quickly learns how even the smallest acts of kindness can change the world, and she feels deep regret for how she treated Maya.
Remember, each day, you have the opportunity to make choices that impact others in a positive way. As you read this book with your teacher, pay attention to the choices that both Chloe and Maya make in the story. What motivates them to do what they do? How could they have acted differently? If their actions were different, how would the story have ended? Also, take notice of the things the author didn't come right out and say, or the places where you have to infer. For instance, how do you think Chloe has changed? What impact will Chloe's actions have on Maya? What kind of person was Maya? What was her life like?
Just like a pebble makes ripples in the pond, every little thing you do goes out into the world. To that end, along with reading this book I am asking you to share with me how you show kindness in order to make a difference in the world. There will be a box in the office for your responses, and I look forward to hearing your thinking and seeing your illustrations!
Love,
Ms. Clayton 🙂
Student Responses to
"How do you show kindness to make the world better?"
---
The World is Waiting For You by Barbara Kerley
School-Wide Response to
The World is Waiting
For You
Each student in the school signed a puzzle piece in this hallway display. A small group of students also designed the letters and created the tree and grass using the American painter, Bob Ross, as inspiration. 
There is a quote by Edmund Wilson that reads "No two persons ever read the same book." This is especially true when instituting a school-wide Book of the Month. Not only do you meet the standards in a creative way while building a literacy community, but you gain the perspectives of children across multiple grade levels in a way that is enlightening and informative.
Suggested Titles for School-Wide Book of the Month Program
Elementary
How to Heal a Broken Wing by Bob Graham
Graham, Bob. How to Heal a Broken Wing. Cambridge, Massachusetts: Candlewick Press, 2008.
Will is the only one that notices the hurt bird on the ground and so begins a story of hope and healing.
If I Never Forever Endeavor by Holly Meade
Meade, Holly. If I Never Forever Endeavor. Somerville, Massachusetts: Candlewick Press, 2011.
Readers learn an important lesson from a young bird deciding whether or not to try his new wings.
Ish by Peter Reynolds
Reynolds, Peter. Ish. Toronto, Ontario: TumbleBooks, 2005.
Ramon's sister helps him to see there are more important things than just getting it "right."
Spuds by Karen Hesse
Hesse, Karen, and Wendy Watson. Spuds. New York: Scholastic Press, 2008.
While their Ma works the night shift, Maybelle and her siblings go on an adventure that teaches an unforgettable lesson.
Stick and Stone by Beth Ferry and Tom Lichtenheld
Ferry, Beth and Tom Lichenheld. Stick and Stone. Boston: Houghton Mifflin Harcourt, 2015.
This simple story tells a tale of friendship and what it means to be a good friend.
The Most Magnificent Thing by Ashley Spires
Spires, Ashley. The Most Magnificent Thing. Toronto, Ontario: Kids Can Press, 2014.
It starts with a little girl, her dog, and an idea. However, making the most magnificent thing can be more challenging than it seems.
There by Marie-Louise Fitzpatrick
Fitzpatrick, Marie-Louise. There. New York, Roaring Book Press, 2009.
A story of a young girl pondering what life will be told completely in questions. "When will I get There? How will I know?"
Secondary
Basketball Belles by Sue Macy
Macy, Sue, and Matt Collins. Basketball Belles: How Two Teams and One Scrappy Player Put Women's Hoops on the Map. New York: Holiday House, 2011.
The story of women's basketball and Agnes Morley, who played guard for Stanford University. Includes an author's note and a timeline of women's basketball, along with resources and places to visit.
Freedom Summer by Deborah Wiles
Wiles, Deborah, and Jerome Lagarrigue. Freedom Summer. New York: Atheneum Books for Young Readers, 2001.
Joe and John Henry share a lot in common, except Joe is white and John is black. During the time of the story, John Henry wasn't allowed to do the things his best friend could do. Then a law is passed forbidding segregation, but in some people's minds the segregation still exists. A powerful story of friendship during the time of the Civil Rights Act of 1964.
Gandhi: A March to the Sea by Alice B. McGinty
McGinty, Alice B. Gandhi: A March to the Sea. Las Vegas, Nevada: Amazon Children's Publication, 2013.
Tells the story of Gandhi's twenty-four day March to the Sea in peaceful protest of laws imposed by Great Britain. The book is written in free verse and includes background information about Mohandas Gandhi and the route of the Salt March.
Lincoln and Douglass: An American Friendship by Nikki Giovanni
Giovanni, Nikki and Bryan Collier. Lincoln and Douglass: An American Friendship. New York: Henry Holt, 2008.
Tells the story of the unusual friendship between two American leaders with shared goals. Includes an author's note, an illustrator's note, and a timeline.
The Soccer Fence: A Story of Friendship, Hope, and Apartheid in South Africa by Phil Bildner
Bildner, Phil. The Soccer Fence: A Story of Friendship, Hope, and Apartheid in South Africa. New York: G.P. Putnam's Sons Books for Young Readers, 2014
Story of South Africa's history during a time when apartheid began to fall apart. Tells of a young boy's dreams of playing soccer with boys from another part of the city, and how he realizes that dreams can come true, no matter how impossible they seem. Includes a historical note and an Apartheid Timeline.
Voices of the Dust Bowl by Sherry Garland
Garland, Sherry. Voices of the Dust Bowl. Gretna, Louisiana: Pelican Publishing, 2012.
A collection of narratives describing life during severe drought in the 1930's. It tells the story of the people from all different backgrounds and their hopes and worries for the future. This book is one in a volume of Sherry Garland's historical Voices Series. Includes a historical note, glossary, and bibliography for students.
Permission is granted for reprinting and distribution of this newsletter for non-commercial use only.
Please include the following citation on all copies:
Clayton, Heather. "Building a Literacy Community with a School-wide Book of the Month." Making the Standards Come Alive! Volume IV, Issue IV 2016. Available at www.justaskpublications.com. Reproduced with permission of Just ASK Publications & Professional Development (Just ASK). ©2016 by Just ASK. All rights reserved.