February 2017    Volume II Issue II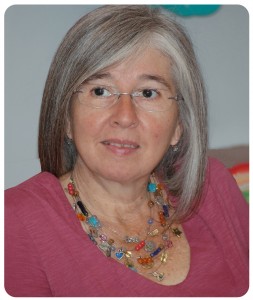 Marcia Baldanza, the author of Professional Practices and a Just ASK Senior Consultant, lives in Arlington, Virginia, and Ft. Lauderdale, Florida. She recently retired from the School District of Palm Beach County, Florida, where she was an Area Director for School Reform and Accountability; prior to that she was Director of Federal and State Programs.
Making PSEL Come Alive!


Learning for All Students, All Staff, and Yourself

Professional Practices for the 21st Century Leader provides support for the Professional Standards for Educational Leaders (PSEL) by making deliberate and ongoing connections among and between best practice, research-based evidence, and strong indicators with stories, tips, and tools that educational leaders can relate to and incorporate into the day-to-day life of the school. The issues will be structured according to the life-cycle of the school year and offer strategies to help the novice leader know what's just around the corner and the veteran leader see a different perspective. I will use my more than 25 years of experience as a teacher, principal, director, consultant, and mother to frame my remarks and advice.
In this issue, I look at ways to make substitute days count, share my print and web recommendations, offer a self-assessment around ethics and professional norms, delve into a common problem of practice, and more. I hope you'll use the tips, tools, and links to improve, enhance, and increase your own leadership ASK (attitude, skills, and knowledge)!
At the end of each week, educational leaders shut down their computers and head home (unless there is a play, a concert, or a game) after another high energy, full five days. As we leave the building, we replay the events of the past few days and ask ourselves:
Did we help make a difference for our students?
Did we focus on what matters most for their learning and well being?
The PSEL standards provide guideposts and exclaim that the answers to these critical questions are a resounding "Yes!" Grounded in current research and the real-life experiences of educational leaders, they articulate the leadership that our schools need and our students deserve. They are student-centric, outlining foundational principles of leadership to guide the practice of educational leaders so they can move the needle on student learning and achieve more equitable outcomes. They're designed to ensure that educational leaders are ready to meet effectively the challenges and opportunities of the job today and in the future as education, schools, and society continue to transform.
PSEL 2015 and Promoting Principal Leadership
for the Success of Students with Disabilities
My first students were children with severe disabilities. Holding a BS in Special Education from Syracuse University, before transitioning to general education classes, I taught students with autism, emotional disabilities, and learning disabilities. Naturally, I was a principal who always raised my hand to offer a location for a new special education program or the relocation of one. Students with disabilities are close to my heart. So, when I came across the January 2017 release of the supplemental PSEL 2015 and Promoting Principal Leadership for the Success of Students with Disabilities published by CCSSO and CEEDAR Center, I dug in.
In October 2015, the National Policy Board for Educational Administration (NPBEA) adopted the new Professional Standards for Educational Leaders 2015 (PSEL). These standards replace the Interstate School Leaders Licensure Consortium (ISLLC) Standards that have shaped the landscape of educational leadership for the last 20 years. PSEL defines leadership effectiveness in terms of the academic success and well-being of each student, drawing attention to students whose needs may require a more intentional focus of leadership development.
PSEL 2015 and Promoting Principal Leadership for the Success of Students with Disabilities available at www.ccsso.org/Documents/2017/PSELforSWDs01252017.pdf is intended primarily for chief state school officers and their state education agency (SEA) staff. Its ultimate goal is to provide SEAs with actionable steps to promote practices and cultivate competencies for effective principal leadership where each child has an equitable opportunity to succeed with a particular focus on students with disabilities. This document is supplemental to the PSEL 2015; it is not intended as a replacement. Specifically, this document provides guidance on how the PSEL 2015 can be applied to support inclusive principal leadership for the success of students with disabilities and highlights key competencies toward that end. It is definitely worth the read!
Professional Standards for Educational Leaders (PSEL)
Mission, Vision, and Core Values
Ethics and Professional Norms
Equity and Cultural Responsiveness
Curriculum, Instruction, and Assessment
Community of Care and Support for Students

Professional Capacity of School Personnel

Professional Community for Teachers and Staff
Meaningful Engagement of Families and Community
Operations and Management

School Improvement



Making Substitute Days Count
As a teacher, I believed that being absent from the classroom, for any reason, set my students back. So, I avoided going to conferences and pushed through illness. As an educational leader, my stance changed. I believed in the power of job-embedded learning, professional learning conferences, and learning walks. I wanted teachers to develop their skills and knowledge and needed teachers to engage with me and each other to review data, draft plans, and revise calendars. So, how do we both maximize learning and orchestrate opportunities for teachers to collaborate and learn?
At Patrick Henry Elementary in Alexandria City Public Schools, Virginia, I used a combination of Title I and grant funds to "purchase" a substitute who came to school daily from 9-2. She was well known to the students and teachers and was assigned to different classrooms to allow teachers to visit each other. The teachers handled the scheduling themselves, and the substitute was not used for other purposes. We never felt behind; in fact, we all felt empowered and much better informed. 
Parachute Teachers
If you have a teacher out for the day,
why not bring in a scientist or musician instead of a worksheet?
—Parachute Teachers
Access articles from The Atlantic and from the Smithsonian Magazine for information about the Parachute Teachers start-up.
Parachute Teachers is a new option for two schools in Boston Public Schools and one that I bet will spread. Parachute, founded by Sarah Cherry Rice who is a Teach for America alum and a doctoral student at Harvard, finds prospective substitutes, handles background checks, and offers basic training. Once they are vetted and trained, Parachute Teachers highlight an area they would like to teach and are requested and assigned as needed. The substitutes provide students with an opportunity to experience things they have never experienced or, perhaps, even discussed. This fledgling concept seems like a win for everyone involved, especially for short-term needs. Teachers don't have to prep for a substitute while they participate in professional learning and students learn something new from a community member.
 
If you are not ready to take on this cutting-edge initiative, think about scheduling a few field trips, chaperoned by parents; such outings could give teachers time to learn together while the students are off learning outside the school. Another great idea is whole school assemblies or in-house field trips with community members providing expertise and hands-on exhibits. Having a visiting museum docent, excerpts from a play, or an orchestra performance can give teachers needed time for collaborative data analysis, planning, and learning while exposing students to the world of arts and sciences with concrete examples of life beyond the classroom rather than always relying on print or digital representations.
What's in Your Inbox
Using technology in support and service of learning is embedded in PSEL Standard IV: Curriculum, Instruction, and Assessment. Education leaders can learn about effective practices around the world by thoughtfully examining what others are doing. Advances in technologies and digital tools allow us to learn from others in our own time and space as deeply as we want or need. Carefully selecting a personal learning network to include ideas from others can open new ideas and validate others.
Some time ago I read an article by Pamela DeLoatch that was a review of blogs for education administrators. I couldn't wait to get all of her recommendations delivered to my email for me to read at my convenience! If you're anything like me, I sign up for all sorts of professional subscriptions, emails, blogs, and newsletters. Then, before I know it, I am unsubscribing because I can't keep up with them all or they didn't turn out to be what I was looking for. So, after a few months, I narrowed my list. In each issue, I will share a blog that I regularly open and actually read. 
Featured Blog


The Principal of Change

by George Couros
https://georgecouros.ca/blog/

Couros is a Canadian educational leader, blogger, author, and learner. He delivers his thoughts on how to promote successful school leadership in blogs, TEDx, his book The Innovator's Mindset, and stories. In his blog, Couros shares a professional learning event to which he invited students to come observe and then give him feedback. What they said will surprise you!

I believe we have a moral imperative to improve outcomes for our students and much of our new learning as teachers comes through collaborative job-embedded opportunities with each other. Integrating new learning into existing practice is a required extension. Asking our ultimate customer, the student, for feedback on the result versus the intent can be a powerful method for improvement. Check this out and consider inviting your students to a professional learning experience. https://georgecouros.ca/blog/archives/7053.
Problems of Practice: Ethics and Professional Norms
The Facilitator's Guide published by Connecticut's Education and Mentoring Program for the study of Ethical and Professional Dilemmas for Educators was created to help educators understand the Code of Professional Responsibility for Educators. It supports PSEL Standard II: Ethics and Professional Norms, and It is easy to use and is a great resource for professional learning. It presents 12 real-life dilemmas similar to ones we have faced including transporting students, contact with students, the use of social networks, teacher public behavior, student confidentiality, bullying, and more. The process recommended in the guide includes presentation of a dilemma, the Connecticut context, and processing questions complete with possible answers. The 48 page guide is available at www.ctteam.org/df/resources/Module5_Manual.pdf.
To jump start your thinking about possible dilemmas you might encounter, I am listing four below. Two focus on teacher issues and two on issues related to principal situations.
Mr. T is a long-time teacher at Sunshine MS and has run a sports camp during extended breaks from school and during the summer months for years. The camp takes place at the school and uses the school facilities and equipment. Parents and students like the camp and the enrollment has grown each year. The fee charged is paid to Mr. T Camps.
Ms. P is a new teacher and has a student who is chronically late for school, missing the bus 3-4 days a week. Ms. P notices that she and the student live in the same neighborhood. Ms. P offers to pick up the student on the way in each morning.
Dr. F is a veteran principal and has enjoyed a successful 30 years in the same school district. Recently the district adopted a new literacy model that is the product of curriculum mapping and team planning. He collects the materials, lessons, assessments, and plans. He puts them into a binder and solicits interest from publishers. A publisher expresses interest and offers to pay Dr. F for the binder.
Bright Elementary is going through a furniture upgrade, which all schools have every 10 years. This includes office and classroom furniture. The old furniture is scheduled to be moved to the warehouse for later disposal. The principal is part of a family business and takes the old office furniture to the business.
Connecticut's guide recommends the following processing questions:
What possible issues or concerns might this scenario raise?
How could this situation become a violation of the code of conduct or other school/district policies?
In this situation, what are some potential negative consequences for the teacher (principal), the students, and the school community?
What responses/actions will result in a more positive outcome and/or what proactive measures might be considered?
In all cases, facilitators of these discussions should use local code and policy to get the most benefit from this activity. I suggest pulling out your own state or district codes of ethical conduct to increase relevancy.
Professional Standards for Educational Leaders (PSEL) Update
According to Denisa Superville in her January 24th Education Week, Northwest Missouri State University has redesigned its master's program in education leadership around PSEL. Aspiring principals engage in rigorous and relevant preparation and pre-job experience that professional standards now demands. Superville also notes that Delaware, West Virginia, and Nebraska are using the PSEL standards "… to revamp how they are preparing and supporting their next generation of principals and school leaders." I am certain that more states will follow this lead. Stay tuned…
 
Resources and Refrences
Couros, George. The Prinicpal of Change. Access at https://georgecouros.ca/blog/.
DeLoatch, Pamela. "20 Education Administrator Blogs."Edudemic. May 11, 2015. Access at www.edudemic.com/admin-blogs/.
National Policy Board for Educational Administration. Professional Standards for Educational Leaders 2015. Reston, VA, 2015. Access at www.ccsso.org/Documents/2015/ProfessionalStandardsforEducationalLeaders2015forNPBEAFINAL.pdf.
Rutherford, Paula, et al. Creating a Culture for Learning: Your Guide to PLCs and More. Alexandria, VA: Just ASK Publications, 2011.
Superville, Denisa. "New Principal Standards Catch On." Education Week. January 24, 2017. Access at www.edweek.org/ew/articles/2017/01/25/new-principal-standards-catch-on.html.
Connecticut Teacher Education and Mentoring Program Facilitator's Guide for Ethical and Professional Dilemmas for Educators. Access at www.ctteam.org/df/resources/Module5_Manual.pdf.
The Council of Chief State School Officers & The Collaboration for Effective Educator Development, Accountability, and Reform Center.  PSEL 2015 and Promoting Principal Leadership for the Success of Students with Disabilities.  Access at www.ccsso.org/Documents/2017/PSELforSWDs01252017.pdf.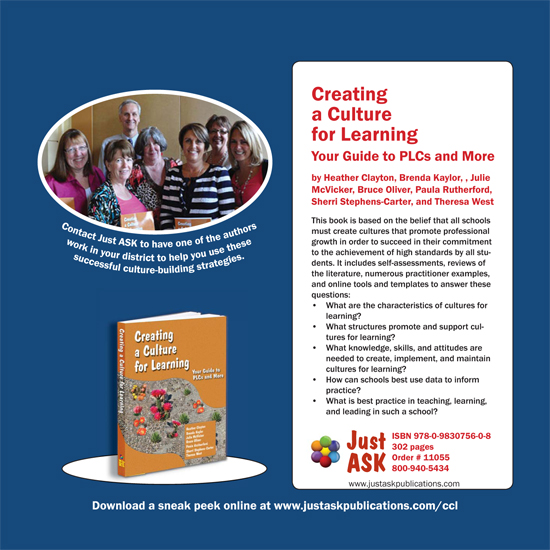 Permission is granted for reprinting and distribution of this newsletter for non-commercial use only.
Please include the following citation on all copies:
Baldanza, Marcia. "Learning for All Students, All Staff, and Yourself." Professional Practices. February 2017. Reproduced with permission of Just ASK Publications & Professional Development (Just ASK). © 2017 by Just ASK. All rights reserved.